Much has happened while I got to the triathlon world elite from my hometown in Transylvania. I dreamed big and achieved even more. Persistence and ambitions are the path to success, lets go along it together.
The beginning of the Ironman
Funny to watch the VHS videos, and see that my parents were right. I really did move all the time. I was ten when I found myself running my twentieth round around our block and still not getting tired. All the others have long since collapsed, but I just kept counting the circles till it got dark. I ran more than 20 kilometers that night.
I also remember that we once went hiking with my family. I hid two, 2kg dumbbells in my bag to get stronger while toting them. So I've been a 'sports fan' since I was very small. I wanted to train myself and I was incredibly persistent and stubborn.
Vegetarianism
I am vegetarian since the age of four. I simply dislike meat. I didn't even eat meat when adults threatened me that without it I will never be strong. Therefore, I must pay more attention to what I consume and make sure that the necessary proteins and amino acids enter my body.
"I WANTED TO TRAIN MYSELF AND I WAS INCREDIBLY PERSISTENT AND STUBBORN."
First big move
After primary school I moved to Hungary. I entered a sport class, and was preparing to become a football player. I learned a lot about sports. I had some very charismatic teachers who opened my eyes to many things. They saw potential in me and made me work even harder than the others.
How I met triathlon
And how did it become triathlon from football? I realized that soccer was not for me. I enjoyed it, but I was not an outstanding talent, so I began trying other sports. I participated in athletics competitions, which went pretty well. Then my desk mate seduced me to go to a triathlon competition, after which there was no stopping.
"I COMPETED MINDLESSLY. IT DISAPPOINTS ME TO THINK ABOUT HOW MUCH I HARMED MYSELF DUE TO IGNORANCE."
My very first triathlon race
For my first triathlon race, I built my own bike. I had the crank fall off mid-race, but was able to repair my bike and finish the competition. I never gave up anything I started. It's just not my style.
Chaotic competitions
From the first race on, I was constantly looking for competition opportunities. I hitchhiked, walked, took a train or a bus, rode my bike, but somehow I always got to the venues. I competed mindlessly. It disappoints me to think about how much I harmed myself due to ignorance. However, those experiences led me to the point, where I can motivate others and help develop training sessions and refreshing strategies.
ONCE I REACHED A GOAL, I MOVED ON TO THE NEXT ONE. TO BE CONTINUED…
---
Sok minden történt míg a székelyföldi Sepsiszentgyörgyről eljutottam a triatlon világ elitjébe. Nagyot álmodtam és annál is többet értem el. Tarts velem és haladjunk együtt a a kitartás útján az álmok megvalósítása felé.
A vasember kezdete
Vicces visszanézni a VHS videókat, és látni, hogy a szüleimnek igaza volt. Tényleg mindig mozogtam. Kb. tíz éves koromban egyszer azon kaptam magam, hogy már a huszadik körömet futom a blokkunk körül és még mindig nem vagyok fáradt. A többiek már rég kidőltek mellőlem én meg csak számoltam a köröket míg rám sötétedett. Több mint 20 km-t futottam akkor.
Arra is emlékszem, hogy elmentünk kirándulni a családdal én pedig 2 darab 2 kilós súlyzót rejtettem a tarisznyámba, hogy erősödjek amíg cipelem. Szóval már egész kicsi koromtól rajongtam a sportokért, építeni akartam magam és hihetetlenül kitartó, akaratos voltam.
Hús, hús, hús, egyél húst
Négy éves korom óta vegetáriánus vagyok, egyszerűen nem szeretem a húst. Akkor sem ettem húst, ha arra hivatkoztak, hogy anélkül nem leszek erős. Ezért jobban oda kell figyeljek az étkezésre, hogy bevigyem a szervezetembe a szükséges fehérjét és aminosavakat.
 "ÉPÍTENI AKARTAM MAGAM ÉS HIHETETLENÜL KITARTÓ, AKARATOS VOLTAM."
Első nagy költözés
Általános iskola után Magyarországra költöztem, pontosabban Nyíregyházára. Rokonaim élnek ott és viszonylag közel van Erdélyhez, úgyhogy adott volt a város. Sportosztályba kerültem, ekkor még futballistának készültem. Itt rengeteget tanultam a sportról. Volt pár nagyon karizmatikus tanárom, akik sok mindenre felnyitották a szemem. Látták bennem a lehetőséget és arra ösztönöztek, hogy másoknál keményebben küzdjek.
Nagy találkozás
És hogy fociból hogy lett triatlon? Rá kellett jönnöm, hogy a foci nem nekem való. Élveztem, de nem voltam kimagasló tehetség, ezért elkezdtem más sportok iránt is érdeklődni. Atlétika versenyeken vettem részt. Aztán a padtársam elcsábított egy triatlon versenyre, ami után már nem volt megállás.
"AGYATLANUL CSINÁLTAM VÉGIG A VERSENYEKET. ROSSZ BELEGONDOLNI, HOGY MENNYIT ÁRTOTTAM MAGAMNAK A TUDATLANSÁGOM MIATT."
Első több-próbás versenyem
Első versenyemre két szupermarket bicikliből szereltem össze egy kerékpárt. Az első kilométereknél leesett a hajtókar. Megálltam, megszereltem és befejeztem a versenyt. Sosem adtam fel semmit amit elkezdtem. Az egyszerűen nem az én stílusom.
Fejetlen versenyzés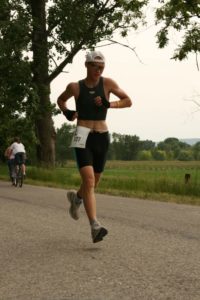 Attól kezdve folyamatosan kerestem a versenylehetőségeket. Stoppal, vonattal, gyalog, kerékpáron, de valahogy mindig eljutottam a helyszínekre. Fáradtan, normális frissítés nélkül, agyatlanul csináltam végig a versenyeket. Rossz belegondolni, hogy mennyit ártottam magamnak a tudatlanságom miatt. Viszont ezeknek a tapasztalatoknak köszönhetem, hogy most már én motiválhatok másokat és segíthetek, edzésterveket, frissítő stratégiákat kidolgozni.
AHOGY EGY CÉLT ELÉRTEM, JÖHETETT A KÖVETKEZŐ. FOLYTATÁS KÖVETKEZIK…