Much has changed in my life, when I moved to Australia five years ago. The scene of most changes is the Blue Mountains National Park.
From the first moment I love this place, it's part of my life, it gave me so much I am thankful for.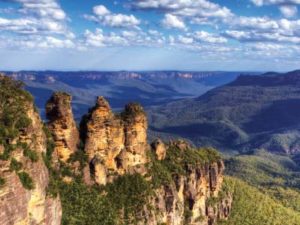 This national park organizes Australia's largest and also a world famous trail event. I've always thought about trying this race, but could never adjust it to my calendar. Fortunately, this year I was able to attend. I was very happy about it and considered the challenge to be good fun.
I did not particularly prepare for the this race. Mostly, because I did well in the previous two trail running competitions in Australia. I actually won both races. A week before this race I looked at the map and I got scared. 22 km in total, with 1000m going down and then 1000m up. I was not so scared of the uphill, but the downward part seemed to be pretty terrifying.
In the race morning, everyone had to take the buses rented by the organizers to the startline. Two bus times were available, and I chose the later one.
We went a little slower than we should have, but we got there 2 minutes before the start. Me, the naïve thought that the start would be delayed. To my biggest surprise that did not happen. My warm-up was getting my extra layers of clothes off super fast and a sprint up to the bag drop area, while I already heard the start beep. I quickly jumped into the thousands of people and tried to make my way to the front from behind. By the time I left the start line the front was 500m away. Since my plan was to run with the first ones, after a little hesitation I decided to have an even stronger pace. The goal was to go as forward as I can.
So I got past a few hundred people and was making my way down the valley. After 3-4K, my feet indicated that they do not understand what this morning sprint is all about without any warm-up. But their biggest question was whether this rough downhill run and mostly braking is good to us or not. After 5K, we got the answer. My legs were like stone. The only question left was how to deal with it until the end.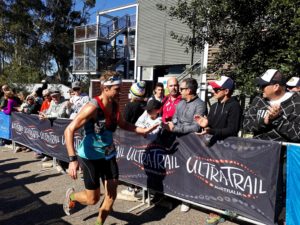 Long, painful Ks to the bottom of the valley followed. I simply could not run, I just shuffled down and wished for the uphill climb. Yayyy, I finally reached some upward Ks, but my happiness did not last long, because down I went again. This continued until I finally came to a longer uphill part. I started overtaking people, I knew they were tired, so I can not be. Unfortunately, as many people as I passed in the 5K uphill, passed me again in the 500m  slope.
The Blue Mountains held the best part to the end. Hundreds of stairs awaited us before the finish line. I was trying to guess how many stairs are left by listening to the cheering of the supporters coming closer and closer. I finally arrived to the finish, with completely numb feet. I knew that the next day my legs will be sore, but I did not think I would not be able to walk for two days. Nevertheless, I enjoyed dying in a completely different way. 🙂
Thank you my team for making it possible for me to attend such extraordinary races: CCNSport,  720 armour, Combridge, Novatel, Marko Dental, Casco helmet,  Kovászna Megye, SLF Motion, MaBaker, Ambronite
---
Amikor bő 5 éve Ausztráliába költöztem sok minden megváltozott az életemben. A rengeteg változásnak a helyszíne a Kék hegyek nevet viselő, ausztrál nemzeti park. Első perctől kezdve szeretem ezt a helyet, az életem részévé vált, sokat köszönhetek neki.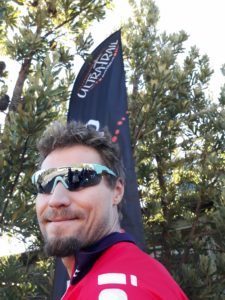 Ebben a nemzeti parkban rendezik Ausztrália legnagyobb, és a világon is jegyzett terepfutó versenyét. Mindig is játszottam a gondolattal, hogy kipróbálom ezt a versenyt, de sosem fért bele a programomba. Idén szerencsére úgy alakult, hogy elindulhattam rajta, aminek nagyon örültem és jó mókának tartottam.
Különösebben nem készültem rá. Tudtam, hogy kemény lesz, de mivel mindkét terepefutó verseny amin eddig indultam Ausztráliában jól ment, sőt még meg is nyertem, nem kavarta fel a hétköznapjaimat ez sem. Egy héttel a verseny előtt kezdtem megnézni a térképet és hát megijedtem. 22 km összesen, amelyen 1000m kell lemászni, majd 1000m fel. A felfelé nem is volt annyira rémisztő, de a lefele elég félelmetesnek tűnt.
A verseny reggelén a rajt helyszínére kötelező módon a szervezők által bérelt buszokkal lehetett eljutni. Két indulási időpont lehetőség volt, én a későbbit választottam.
Kicsit lassabban haladtunk mint ahogy kellett volna, de 2 perccel a rajt előtt már meg is érkeztünk. Gondoltam én naivan, hogy akkor biztos késik a rajt. Meglepetésemre nem így történt. A bemelegítés szuper gyors vetkőzés és sprint a csomagmegörzőig, miközben ellőtték a rajtot. Gyorsan bevágódtam a több ezer ember közé és próbáltam hátulról előreverekedni magam. Mire én elhagytam a rajtvonalat az eleje már 500m-re volt. Mivel a tervem az volt, hogy az elejével futok, kis gondolkozás után még erősebbre vettem a tempót,. A cél az volt, hogy annyira előre érjek, amennyire csak lehet.
Szóval pár száz embert megelőztem és haladtunk szépen lefele a völgyben. A lábam 3-4 km után már jelezte, hogy nem érti mi ez a reggeli sprintelés semmi bemelegítés nélkül. Azt viszont végképp megkérdőjelezte, hogy jó-e nekünk ez a durván lefelé futás, sokszor nem is futás csak fékezés. Szóval 5 km után már olyan súlyemelős lábam volt mint a kő. Csak az volt a kérdés hogyan érek le vele a végéig.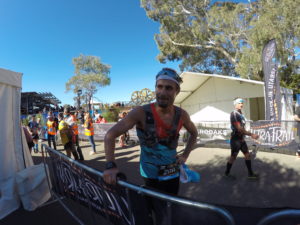 Hosszú, fájdalmas kilométerek voltak a völgy aljáig. Egyszerűen nem tudtam futni csak csoszogtam lefelé és vártam végre az emelkedőt. Juppi, végre elértem a felfeléhez, de sokáig nem tartott a gyerek nap, mert újra jött a lefelé. Ez így ment tovább, míg végre elérkeztem egy hosszabb emelkedőig. Kezdtem örülni, előzni az embereket.. Sajnos viszont az 5km felfelé alatt ahány embert megelőztem annyi előzött vissza egy újabb 500m lejtős szakaszon.
A végén már felfelé is fájt a lábam (bár most így utólag visszagondolva, az kellemes szenvedés volt). A Kék hegyek a végére tartogatta a parádét. Több száz lépcsőn felfelé loholva lestem a célt és a szurkolók kiabálása alapján saccolgattam, hogy hány lépcsőfok lehet még hátra. Végre célba értem, teljesen bezsibbadt lábakkal. Már akkor tudtam, hogy  ez holnap nagyon fog fájni, de arra nem gondoltam, hogy két napig járni sem fogok tudni. Ennek ellenére nagyon élveztem, hogy valami teljesen más formában nyírom ki magam.
Köszönöm a csapatnak, hogy ilyen különleges versenyeken is részt vehetek: CCNSport,  720 armour, Combridge, Novatel, Marko Dental, Casco helmet,  Kovászna Megye, SLF Motion, Ambronite, MaBaker,