Asia again. My year 2017 is different from the last couple of years. I spent winter in Europe, which made my preparation more difficult. Even though I did a lot of work it did not show at the beginning of the year.
In August I headed east again and attended two Ironman 70.3 races in Indonesia and China within a week. I've been to the competition site in Indonesia before so I knew what to expect. Acclimation is always difficult when going to an Asian competition from Europe. That is why I planned the Bintan Ironman 70.3 to be a preparatory competition for Qujing Ironman 70.3.
I took the plane to Singapore and then the ferry to Indonesia. I arrived to Bintan Island two days before the race. I enjoyed the tropical warmth and maybe I handled acclimation better than usual.
In the morning of the tournament, everything went well. I had a good start of swimming, my movements were complex, but there was simply not enough power. I felt that kind of dullness in all three sports. The cycling track led through jungles and small villages. We had to be careful not to hurt any of the monkeys jumping on the roads. When the run started it was already very hot. I was reserving energy on the run and really enjoyed the whole path. This race is the 1st one this year that I am not disappointed about. So I am happy about the good race rather than my 7th place.
After the race I went back to Singapore for a couple of days and then traveled to China. I was in Kunming Airport in China when I heard that the racecourse is situated 1900 meters high. Honestly? I read the race details, but since the height was given in feet, I just jumped over that 'small' detail (very amateur…). The following days were full of headaches and sluggishness. The everyday rain and grayness did not help fighting my dull mood. On the day of the tournament I felt better, thanks to the enormous amount of water I drank and the  magnesium and iron I took (it was a special adventure to buy them in the 6 million small town 🙂 ).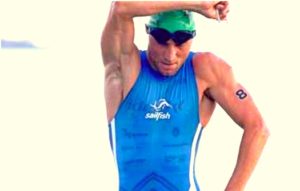 Swimming was in a lake with four big buoys and twelve little buoys. From the water the small and the big seemed to be the same size. We had to go around all buoys from the left side, except one. I was trying to see from behind the waves which buoy is THE one. I was wrong. A kayak judge told me to go back and bypass it again. I swam 100 meters back to the great surprise of the other competitors. They could not decide whether I was a complete idiot, or they were doing something wrong. 🙂
I found myself on the bicycle quickly. The bicycle track was wavy, which I love, but I did not enjoy it so much this time. At the beginning of the ride I was scared I got flat tires, but I was not sure. Then, as the kilometers passed, I realized that my rear wheel was losing air, but slowly. I decided that as long as I can go with the damaged tire I will, even though it slows me down. In the middle of the distance, on an uphill I felt I can not push it more, it is very flat. I stopped to fix it. From this point on, the goal was to finish the race. As soon as I was able to go out to run I was very relaxed. I took the run as a gift and just enjoyed it (doesn't happen too often in races). I finished 9th place.
Arriving to the finish line I started thinking about how to get back to the hotel fast, pack up and not miss my flight which is within hours. I managed everything in time. I was already on the way home by night and had 35 hours of travel ahead of me. To my big surprise my body took all the challenges easily and recovered pretty fast.
Summing up I'm happy for this trip!
Thanks to my sponsors:  CCNSport,  720 armour, Token Bikes,Combridge, Novatel, Marko Dental, Casco helmet,  Sci-Con, Kovászna Megye
---
Újra Ázsiában. Az elmúlt pár évhez képest az idei egy kicsit másképp alakult. A telet Európában töltöttem, ami nehezebbé tette a már megszokott nyugodt felkészülést. Nagyon sokat dolgoztam az év eleje mégsem úgy sikerült, ahogy szerettem volna.
Augusztusban viszont ismét kelet felé vettem az irányt, és két Ironman 70.3-as versenyen indultam el egy héten belül, Indonéziában és Kínában. Az indonéziai versenyhelyszínen már jártam, így tudtam, hogy mire számíthatok. Európából ázsiai versenyre érkezve mindig nehezen megy az átállás.  Ezért az indonéz versenyt felvezető, Ázsiára ráhangolódó versenynek szántam a kínai verseny előtt.
Repülővel Szingapúrba, majd hajóval Indonéziába, Bintán szigetére érkeztem két nappal verseny előtt. A trópusi meleget élveztem, és talán jobban is viseltem az átszokást, mint máskor.
A verseny reggelén minden rendben ment. Az úszás rajtját jól kaptam el, a mozgást is összetettnek éreztem, de egyszerűen nem volt meg az a robbanás szerű erő bennem.
Ezt a fajta tompaságot mindhárom számban éreztem. A kerékpáros pálya dzsungeleken és kis falukon keresztül vezetett, néha majmokat kellett kerülni az úton. Az utolsó számra már jó meleg volt. Tartalékosan futottam és nagyon odafigyeltem a frissítésekre. Az idei évben először nem voltam csalódott a verseny után. Nem is a 7. helynek örvendtem, hanem a teljesítményemmel voltam megelégedve.
Verseny után visszahajóztam Szingapúrba pár napra, majd továbbrepültem Kínába. Már Kínában voltam, amikor megtudtam, hogy a verseny 1900 méter magasan lesz. Őszintén? Olvastam a versenyinfókat, de mivel a magasság lábba volt megadva, így simán csak továbbsiklottam felette (amatőr). A következő napok fejfájással és lomhasággal teltek. A mindennapos eső és szürkeség sem segítettek az éberség visszanyerésében. A verseny napjára talán már jobban éreztem magam, extra sok vizet ittam, magnéziumot és vasat szedtem (amiket külön kaland volt megvásárolni a 6 milliós kisvárosban).
Az úszás egy tóban volt, ahol négy nagy bóját és tizenkét kisebb bóját kellett megkerülni. Úszás közben a kicsi és a nagy számomra ugyanakkorának tűnt. Az összes bóját balról kellett kerülni kivéve egyet. A hullámok mögül kukucskálva csak az volt a kérdés számomra, hogy melyik is lesz az az egy. Mellé fogtam, mert rosszat kerültem jobbról… egy kajakos bíró szólt, hogy menjek vissza és kerüljem meg újra. 100 métert úsztam visszafele, a szembe úszók nagy csodálkozására. Nem tudták eldönteni, hogy én vagyok bolond, vagy ők csinálnak valamit rosszul. 🙂
A vízi számot befejezve hamar kerékpáron találtam magam. A kerékpár pálya hullámos, számomra tetszetős volt, de most annyira nem élveztem. A szakasz elején rámentem egy kavicsra, ami csúnyán szólt. Megijedtem, hogy defektet kaptam, de úgy tűnt mégsem. Aztán ahogy teltek a kilométerek rájöttem, hogy mégis defekt, csak lassú. Úgy  döntöttem, hogy  – annak ellenére, hogy lassít – ameddig bírja addig megyek vele. A táv közepéig bírta. Egy emelkedőn már nagyon éreztem, hogy lapos. Megálltam megszerelni. Innen már a cél ténylegesen az volt, hogy valahogy be tudjam fejezni a bringázást. Ahogy ez megtörtént nagyon megnyugodtam. A futást ajándékként fogtam fel és csak élveztem. Lazán futottam be a 9. helyen, ilyen azért nem sűrűn fordul elő versenyen.
A célba érkezve már azon járt az eszem, hogy hogyan tudok leggyorsabban visszajutni a hotelba, csomagolni és nem lekésni a pár órán belül induló járatomat. Sikerült mindent időben elintézni. Estére már megkezdtem a 35 órás utazást, és nagy meglepetésemre, azt is jobban bírta a szervezetem mint gondoltam.
Összegezve örülök ennek a kiruccanásnak!
Köszönöm a szponzoraimnak: CCNSport,  720 armour, Token Bikes,Combridge, Novatel, Marko Dental, Casco helmet,  Sci-Con, Kovászna Megye