My main race this year was Ironman Taiwan. To avoid going to Asia for only 1 race, we planned a short Asia-tour beforehand.
I got an invitation for a Chinese short distance competition which became the first stop of the tour. The whole event was really enjoyable. It was one of the few occasions where you could feel that the race was organized for the competitors and not vice versa. I've set a few mini-targets for myself, but I could not really fulfill them due to lack of energy.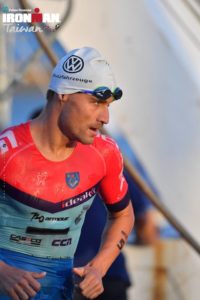 We created a strict time zone changing plan. The main focus was to be 100% ready for the ironman. Therefore during the first days in Asia I could only sleep 3-4 hours per night. Which made me realize that I will not be too successful at the first race.
Congratulations to the ZJ Sports team for the organization, everything was just perfect! The whole race was broadcast live on the national channel. It was the first time that a full triathlon competition appeared on television in China.
The second station was supposed to be Ironman 70.3 Chongqing, but it got cancelled 6 days before the start. After solving some headache-causing problems, I decided that the simplest and best solution would be to travel to the ironman race venue, Penghu Island, Taiwan. It seemed to be better than spending 10 days in a Chinese city alone.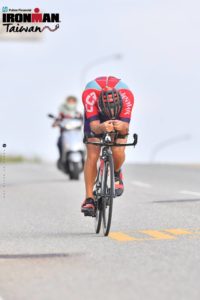 So almost three weeks before the ironman I already arrived to the place of action. There were several advantages and disadvantages of the early arrival. I tried to concentrate on, and work with the positive part. One such positive thing was that I had time to get used to the extremely hot weather. It went really well, when one day a crazy wind arrived and the heat dropped drastically. Actually, I did not really understand the situation  because I had not seen this in the last two years here. The next morning, the same weather awaited me. I found out from my lovely hotel manager girl (who was the only person I could talk to in English in the first two weeks) that winter arrived a couple of weeks earlier this year. She also told me that we are lucky if the typhoons that are circulating in the region will not reach the island. It was difficult for me to accept these facts, I felt like something was taken away from me… I trained myself mentally for extreme weather conditions for a whole year.
Fortunately, there was plenty of time to re-code my brain and I I learnt a lot from this situation as well. I started getting used to my life on the island, and accepted that "Hello" – "Hello" is the maximum I can exchange with people. ☺ Other athletes started coming, which was a big relief after the lonely period. I had everything ready for a good ironman.
The race morning was smooth. At 5:20 am I was already warming up in the water. When I got out of the water I could not see anyone getting ready for the start. There was only one pro athlete, a Spanish lady, who also did not have a clue of what is going on. Where is everyone??? Finally, one of the organizers informed us that the swim course is shortened and the start is delayed due to the strong wind. Recalculating again. Although I got used to it during the past few weeks.
One of the organizers gave me his coat because I was shivering very much. I decided not to do another warm up, especially not for 400 m swimming. So the start was interesting. I tried staying out of the fight after the beeeeeep. As soon as I started swimming I already found myself on the way to the transition zone. ☺ It was definitely the quickest swim of my ironman career.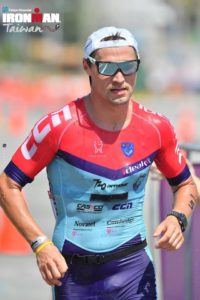 Fast transition and I was already making myself comfortable on the bike for the next 180K. I tried to find a riding-partner on the extra windy track. The first one hour, I pedaled much stronger than I should have done, but I could not find anyone to ride with. I accepted that the wind is going to be my only partner in the next few hours.
I was mentally stable during the whole race. I felt the tiredness caused by the stronger pace at the beginning of the ride, but I could handle it. So I started the run in good condition. I checked the positions of the others and ran accordingly. Along with the wind it also got warm, of course, it was still nothing compared to recent years. I did a very controlled run, I knew I had plenty of spare energy. In the last third of the course, I was still able to overtake a mate and finished 7th. It is an all right position, but I was expecting a bit more. However there are no "if"s in sports. That is why I love them!
Thanks to everybody who cheered for me and all my sponsors who made it possible for me to attend the races!
CCNSport,  720 armour, Combridge, Novatel, Marko Dental, Casco helmet,  Kovászna Megye, Sepsiszentgyörgy,  SLF Motion, Ambronite, MaBakerRomania  Lake Cycling
---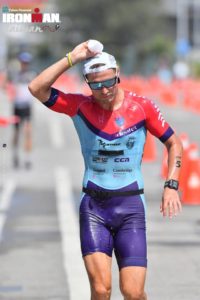 Az idei év legfontosabb versenye számomra a tajvani teljes ironman volt. A fő megmérettetést megelőzően egy kisebb ázsiai túrát terveztünk. Az első állomás egy kínai, rövidtávú meghívásos verseny volt, amely ráhangolódásként szolgált a következő hetekre. Nagyon élveztem az esemény előtti és utáni tennivalókat, történéseket. Ez a verseny azon egyre ritkább alkalmak közé tartozott, ahol azt érezted, hogy a verseny van a versenyzőért és nem fordítva.  Kitűztem magamnak pár mini-célt, amiket nem igazán sikerült teljesíteni teljes erőtlenség miatt.  
A kontinensváltást kicsit komolyabban vettük és messzebbről kezdtük, hogy az ironmanre 100%-os legyek.  Az első négy ázsiai napomon 3-4 órákat aludtam ami miatt várható volt a fejreállás.
Gratulálok ZJ Sports csapatnak a szervezéshez, minden kifogástalan volt! Az egész versenyt élőben közvetítették a nemzeti sportadón. Elvileg ez volt az első alkalom, hogy egy teljes triatlon verseny televízióban szerepelt.
A második állomás az Ironman 70.3 Chongqing lett volna, amit 6 nappal a rajt előtt eltöröltek. Kisebb fejfájás után úgy döntöttem, hogy a legegyszerűbb és legjobb megoldás ha egyből Tajvanra, Penghu szigetére megyek, ahelyett, hogy a nem létező verseny helyszínén dekkoljak 10 napot. Persze ez rengeteg szervezéssel, szállások lemondásával, foglalásával, repülőjegyek vásárlásával, teljes formaidőzítés átalakítással és egyéb kellemes feladatokkal járt.
Így szinte három héttel az ironman előtt már a helyszínen voltam. Több előnye és negatívuma is volt a korai érkezésnek, én próbáltam a pozitív részével foglalkozni és dolgozni. Az egyik ilyen pozitív oldal, hogy megszokom a kánikulát, ami még nekem is nagyon meleg. Ebbe elég jól kezdtem belejönni, amikor is egyik nap nagy szél kerekedett és a meleg is drasztikusan eltűnt. Igazából ezt nem nagyon értettem, mert ilyet nem láttam az elmúlt két évben itt. Aztán másnap reggel ugyanilyen idő várt. Megtudtam az egyik helyitől, (vagyis az egyetlen embertől akivel tudtam angolul beszélni az első két hétben) hogy idén a tél pár héttel korábban érkezett és ne számítsak jobb időre, inkább reménykedjek, hogy a régióban keringő tájfunok ne érjék el a szigetet. Ezt nehéz volt felfogni és elfogadni, kicsit úgy éreztem, hogy elvettek tőlem valamit… Mivel én fejben a hatalmas melegre és extrém körülményekre készültem egész évben.
Szerencsére még volt bőven idő átkódolni az agyam és ebből a szituációból is sokat tanultam. Teltek a napok már kezdtem megszokni a magányt a szigeten és azt, hogy senkivel nem tudok hello-hello szinten túl értekezni…. 🙂 Lassan érkezgettek atléták, ami jó volt a magányos időszak után. Egyre közelebb kerültem a versenyhez és egyre több szituáción mentem keresztül. Még azt is megszoktam, hogy akár gyalog, akár bringázás vagy futás közben, mindig ide-oda tologat a hatalmas szél. Nagyon egyben voltam, hogy egy jó versenyt csináljak.
A verseny reggelén minden rendben volt. 5 óra 20-kor, sötétben már a tengerben melegítettem. A meglepetés, akkor ért amikor mindennel végeztem, kimásztam a partra és kerestem a többi pro atlétát, hogy készüljünk a rajtra. Egyedül a spanyol Corachan-t láttam, aki szintén nem értette, hogy mi folyik itt.  Végül az egyik szervezőtől megtudtuk, hogy törölték az úszás nagyobb részét és később lesz a rajt a nagy szél miatt. Újratervezés. Bár ez már ismerős az elmúlt időszakból.
Az egyik szervező ideadta a kabátját, mert nagyon feltűnően reszkettem. Úgy döntöttem még egy bemelegítést nem csinálok, főleg nem 400m úszásra. A rajt érdekesen alakult. Én valahogy úgy álltam az úszáshoz, hogy itt inkább csak veszíteni lehet, nyerni nem sokat. A kezdeti bunyóból próbáltam kimaradni. El sem kezdtük az úszást és már a hosszú futáson találtam magam a csere zóna felé.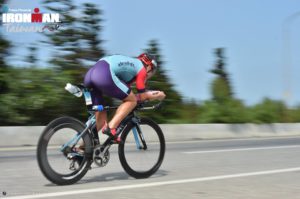 Gyors öltözködés, majd helyezkedés a következő 180 km-re. Megpróbáltam valaki társat találni az extra szeles pályára. Az első közel egy órában sokkal erősebb tempót mentem, mint kellett volna, de így sem sikerült elölről társakat találni. Aztán beláttam, hogy ez sajnos egy hosszú tekerés lesz egyedül a szél társaságában.
Igazából nagy törés nem történt bennem a verseny során. A tekerés végén éreztem az első egy óra erősebb tempójának fáradalmait, de tudtam kezelni. A futásra pozíciót figyelve mentem ki. Szél mellett azért már egész meleg volt, persze közel sem olyan mint az elmúlt években. Nagyon kontrollált futást csináltam, kivárásra játszottam, tudtam, hogy bennem még van tartalék bőven. Az utolsó harmadban még tudtam gyorsulni és közeledni az előttem haladókhoz. A vége egy 7. hely, ami teljesen rendben van, de ennél most többre számítottam és több is volt bennem. De hát ilyen a sport, "ha" nincs benne. Ezért is szeretem ennyire. Ezt a lendületet viszem magammal. 
Köszönöm mindenkinek aki szurkolt és mindenkinek, aki mögöttem van!
CCNSport,  720 armour, Combridge, Novatel, Marko Dental, Casco helmet,  Kovászna Megye, Sepsiszentgyörgy,  SLF Motion, Ambronite, MaBakerRomania  Lake Cycling